Write Now
Write Now is a unique talent development programme for 16–18 year olds that aims to nurture young people's creative writing abilities. Participants are supported through mentoring, workshops and networking as well as having an opportunity to take part in The Times and The Sunday Times Cheltenham Literature Festival.
This year we have six young Gloucestershire writers working with two mentors.
Our writing mentors are two of the South-West's brightest young talents. They both have writing, performing and workshop-leading experience and we are very excited to welcome them to Cheltenham Festivals for the first time.
Imogen Downes
Imogen Downes is a writer, performer and theatre-maker from Bristol. Imogen writes from a place of hope, passion and a desire to capture what it means to be human in a world of relentless complexity. She performs across the South West, contributes to Rife magazine and runs workshops in a range of settings including Bristol Old Vic.
Polly Denny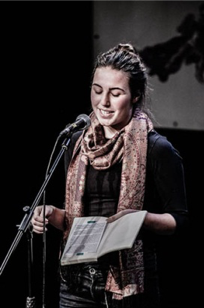 Polly Denny is currently working as Bath Young Poet Laureate, and is one-third of the National Team Slam Champions. She has worked with the BBC and performed in venues such as the Royal Albert Hall, and at festivals such as Shambala and The Edinburgh Fringe. Alternating effortlessly from humour and wit to sincere and moving, she is bound to take you on a journey.
This project is partially funded by Paper Nations, which with Arts Council England aims to change the state of creative writing for young people in the UK.