Local Business Champions
Become a Champion of Cheltenham Festivals and align your brand with the best

Our local business Champions support us in bringing outstanding arts, science and culture to Cheltenham and the wider region. Help us make Gloucestershire a great place to live, work and visit whilst benefiting over 25,000 schoolchildren a year.
Champions can access a variety of corporate benefits including the chance to entertain clients with a first-class cultural experience in a unique environment.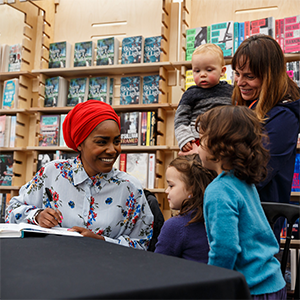 Founding members to date
Become a Champion of Cheltenham Festivals
Joining as a Champion of Cheltenham Festivals could give you access to a range of benefits, detailed below:
Champions of Cheltenham Festivals
Level 1
Level 2
Annual Fee
£4,850 +

VAT

£2,750 +

VAT

Tickets
Complimentary tickets per year
(Up to a value of £50 per ticket, excluding food & drink events)
24


(max. 4 – Jazz, 4 – Music)

12


(max. 2 – Jazz, 2 – Music)

Purchase additional tickets at 20% discount per festival during priority booking. Discounts are not available for events which include catering, books or any other goods in the ticket price.
24


(max. 4 – Jazz, 4 – Music)

12


(max. 2 – Jazz, 2 – Music)

Additional full price tickets able to be purchased during priority booking
max. 6 per event
max. 4 per event
No Booking Fee
✔
✔
Priority booking 8 days ahead of members
✔
✔
Accreditation & Profile
Business text credit online with hyperlink to website
✔
✔
Business text credit in the annual report (online format)
✔
✔
Approved use of support on your website (digital assets will be provided)
✔
✔
Membership sticker to display your support
✔
✔
Hospitality Access
Access to

VIP

Hospitality Lounge throughout the Literature Festival
(excluding food & drink)
6 people
4 people
Events
Complimentary tickets to an annual corporate membership networking breakfast
4
2
Invitation to an evening networking event. Details

TBC

2
n/a
Complimentary tickets for the business breakfast at Literature Festival
2
n/a
Education
Enable a school from Gloucestershire to attend one of the Festivals*
✔
n/a
Opportunity to promote how your support has enabled more children/schools to attend the Festivals
✔
n/a
Acknowledgement of your support online
✔
n/a
*Part of your membership fee will pay for a coach to allow up to 50 children from a target school to attend one of the Festivals, enable a school visit or support our wider education work.
If you want to Champion our work, sign up today.
If you have any questions about becoming a member, please email champions@cheltenhamfestivals.com or call 01242 537253 and a member of our Development Team will get back to you.
Download this flyer here