Details
Fact-based data are powerful tools to combat fake news and misinformation. But how many of us really understand the significance of voter polls, probability or the COVID dashboard? David Spiegelhalter won the Royal Society's Michael Faraday Prize for his work in making statistics and probability entertaining and accessible to key decision-makers and the public. Data artist Stefanie Posavec finds playful and friendly ways to communicate data visually. Together they will explain how an understanding of numbers can help us make informed decisions about our lives.
This event will be live-streamed for free and available on-demand via the CheltSciFest Player. To register, click here.
Biographies
Professor Sir David Spiegelhalter FRS OBE is Chair of the Winton Centre for Risk and Evidence Communication in the Centre for Mathematical Sciences at the University of Cambridge, which aims to improve the way that statistical evidence is used by health professionals, patients, lawyers and judges, media and policy-makers. He has been very busy over the COVID crisis. He presented the BBC4 documentaries "Tails you Win: the Science of Chance", the award-winning "Climate Change by Numbers", and in 2011 came 7th in an episode of BBC1's Winter Wipeout. His bestselling book, The Art of Statistics, was published in March 2019. He was knighted in 2014 for services to medical statistics, was President of the Royal Statistical Society (2017-2018), and became a Non-Executive Director of the UK Statistics Authority in 2020.
Stefanie Posavec is a designer, artist, and author whose practice focuses on finding new and experimental approaches for the communication of data and information. Her work has been exhibited internationally at major galleries including the V&A, the Design Museum, Somerset House, and the Wellcome Collection, the Centre Pompidou, and MoMA. In 2013, she was Facebook's first data-artist-in-residence at their Menlo Park campus. Stefanie's latest data-driven, illustrated book, I am a book. I am a portal to the universe, co-authored with Miriam Quick, is out now. She has also co-authored two books that emphasise a handmade, personal approach to data: Dear Data and the journal Observe, Collect, Draw!
Click below to buy the book from our Waterstones Cheltenham Science Festival bookshop. Every purchase supports Cheltenham Festivals.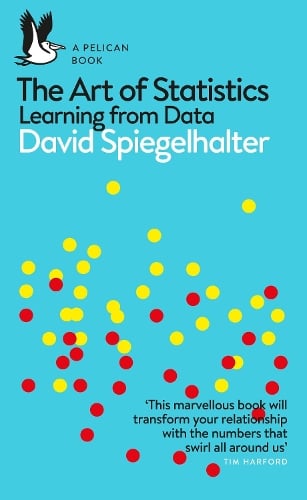 *Fees & Booking Info
CF Ticketing charges a fee per booking to reflect the costs of providing the service which include card processing costs (for both credit and debit cards) as well as staffing, developing and maintaining the booking software and postage
*Our booking fee for online sales is £2.00
We endeavour to keep our booking fee as low as possible and charge on a per booking basis rather than a per ticket basis to ensure this. We also endeavour to ensure that our booking fees are clear before any transaction is completed.
For more information about your booking
click here