Reading Teachers = Reading Pupils...Fairford Church of England Primary School
Sarah Hulbert, Reading Teachers = Reading Pupils participant and teacher at Fairford Church of England Primary School, tells us how she's using #ReadingTeachers book, Shackleton's Journey to inspire her class…
'MEN WANTED for hazardous journey… Constant danger; safe return doubtful.'… What a way to open a new focus in our literacy lessons! As a school, we have been using 'the novel approach' to our teaching of English for a long time. However, Reading Teachers = Reading Pupils offers us the chance to explore new books aimed at Y5/6, and Shackleton's Journey was a prime example of this.
When I read it myself over the Christmas holidays, I have to admit that I wasn't convinced. The illustrations, whilst undeniably impressive, were a little too 'Lowry' for me, and the content had very little description or added detail. In January, we dived into our own book: Treasure Island, and I soon found myself drawing comparisons to Shackleton's Journey: one to the hot climes of the Caribbean, the other to the coldest place on earth. A link just seemed to make sense.
The Reading Teachers = Reading Pupils book group came just at the right time – through our discussion and sharing of our own interpretations and ideas I started to formulate an overview of a unit of literacy in my head, and soon found myself lost in the book with a pack of post-its firmly clasped in my hand. The lack of detail that had frustrated me initially now inspired me: why did 5000 people apply? What were they like? How did he choose? What else must have happened on their journey to South Georgia (above what is described in five sentences in the book)? I decided that we would use the last four weeks of term to move on from Jim's journey to find treasure, to Shackleton's for a far more intrinsic motivation.
We began our first week on Shackleton's Journey with the advert posted by Shackleton and quoted above. The children were engaged immediately. We began by simply discussing what the advert might be for and who might be interested. We then read the introduction to the book and studied 'The Crew', considering what skills and qualities they needed. We looked at an actual letter that Shackleton received from 'Three Sporty Girls' and ended up discussing the role of women in society in 1914: an improvised PSHE lesson thrown in for good measure!
Following this, the children selected a member of the crew and wrote the application letter to Shackleton that they thought would have been good enough to secure them a place on the journey. Hot seating was next on the agenda as each group narrowed themselves down until we had just four potential applicants who were then grilled by the whole class to decide who deserved the final place on the ship. Elm Class will admit themselves that they find concentrating hard, and yet I saw some of the most reluctant writers in my class come to life as they read their letter aloud. They became the character: putting on posh voices and accents; readily making up a whole back story (and quite often a 'sob story') and exaggerating the truth quite considerably in an attempt to win their place on Shackleton's crew.
By the end of that first week, the children were fully on board (if you'll excuse the pun…) and we were busy writing newspaper articles covering the departure of the Endurance from Plymouth Docks. Again, the lack of detail in the book meant that children had to use their imagination to add their own. We had quotations from Shackleton's wife about how much she would miss her "Erny, Werny" and detailed explanations how the dogs had got their names.
Week two brought our Ship's Log. We read an extract from Kensuke's Kingdom and used some of their experiences aboard The Peggy-Sue to add to our own log, since their journey also headed to South America first. The children sat with an atlas and annotated the journey and the events they wanted to include: from getting stuck in the Doldrums to losing in the crew's ongoing poker tournament. Each child wrote a series of short logs across the week, ending when the ship departed South Georgia to head for the South Sandwich Islands.
Following this, we read the pages describing 'The Winter Months'. They began by designing the interior of the Endurance to include rooms and activities that they felt would be sufficient to keep them entertained during the months of darkness.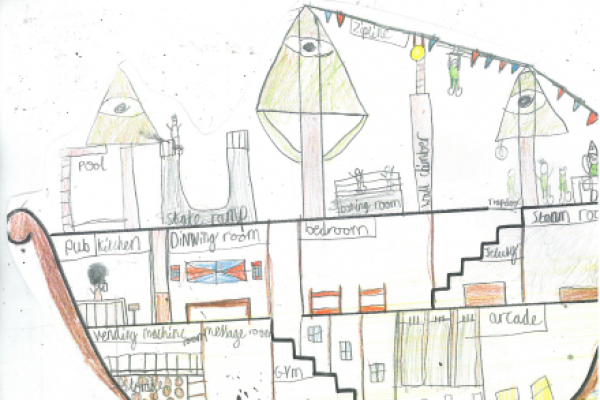 The children then chose one of the characters to write as, and wrote a first person narrative looking back on those months after many years. They added their own detail – anecdotes of specific events and exciting recounts of the dog races through the moonlit snow.
Finally, we read the rest of the book and looked at the quote: "I chose life over death for myself and my friends… I believe it is in our nature to explore, to reach out into the unknown. The only true failure would be to not explore at all." We debated whether or not the journey was a failure and wrote a balanced argument presenting both sides before concluding with our own opinion.
Trying a new book stimulus in the run up to SATs was a risk, but one I am so glad I took. The children loved our study of Shackleton's Journey. I could easily have made it last a whole term, but perhaps part of its appeal to the children was that it was short and this meant their enthusiasm for the book was maintained throughout. In all of my years of using 'the novel approach', I have never used a non-fiction book, but Reading Teachers=Reading Pupils has opened my eyes to this possibility and I am immensely grateful for this. I can't wait to try another of the books next year!
Sarah Hulbert
Fairford Church of England Primary School
As a not-for-profit organisation and registered charity we depend on donations to bring the arts and sciences live to audiences, support emerging talent, and deliver inspirational educational programmes.
To find out more about our year-round Education & Outreach work, click here
To find out about how you can support our work, click here