Saturday 6 July
Hands and Feet
10.30am – 11am
Hands and Feet bring you a mix of latin, jazz and popular music and tap dancing featuring 2018 Glocustershire Young Musician of the Year Lydia Kenny alongside tap dancer Lucas Bailey and bassist Neil Bennetts for a fun family friendly start to the weekend.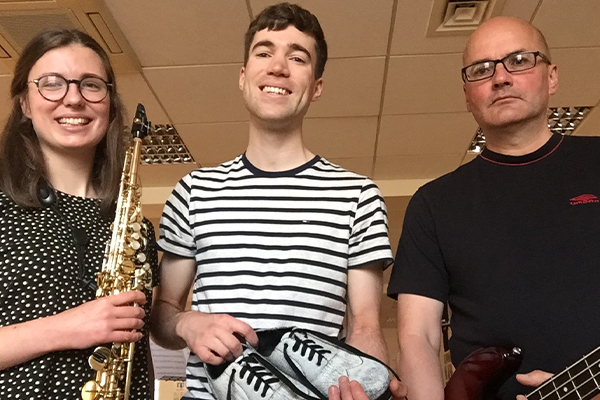 ---
ABC

of Opera

11.15am – 12pm

The Academy of Barmy Composers will be presenting their fun and interactive family show to explore five hundred years of opera to captivate, inspire, enlighten and empower children of all ages, based around their first book BAROQUE.
---
G-Mizz
12.15pm – 12.45pm
Join Harry and Mizza as they introduce you to a world of percussion in this interactive and engaging family workshop. From rhythm games to creating a brand-new piece of samba music, it will have you grooving for the rest of the day.
---
Avygale
1pm – 1.30pm
Avygayle Smith is a 17 year old singer-songwriter and multi instrumentalist based in Gloucestershire. Singing since a very young age, she loves to perform covers of songs in her own style alongside original music. As well as performing solo, she also sings in many choirs including her school choir and jazz orchestra, Gloucester Cathedral Youth choir and (GYC) Gloucestershire Youth Choir.
---
Colwell Arts Jazz Ensemble
1.50pm – 2:30pm
Colwell Arts Jazz Ensemble is a large jazz band for adults that rehearse on a weekly basis and give regular performances throughout the year. They perform a selection of jazz and swing music, conducted by Richard Fitton-Perkins.
---
Wilding
2.50pm – 3.35pm
Bristol-based Wilding have cultivated their own distinct brand of psychedelic britpop, weaving rough punk edges with grandiose choruses and ballads. The band has built on the foundations of namesake singer George Wilding's solo projects, which received acclaim including regular rotation on Radio 2 from Graham Norton and interest from major labels.
---
Katie Doherty & The Navigators
3.55pm – 4.45pm
Singer songwriter Katie Doherty performs with her trio of award-winning musicians The Navigators to create a sound much bigger than 3, presenting heart-swelling, memorable folk songs.
"This is lovely!" – Mark Radcliffe
---
3D Brass
5.05pm – 6.05pm
Screaming trumpets, shredding saxophone improvisation and pumping drum and bass is what to expect from Cardiff based riot-jazz brass band 3DBrass. Performing a varied mix of music including pop, jazz, motown and dance music, there promises to be a little something for everyone!
---
ROB

.GREEN

6.25pm – 7.25pm

Nottingham-based singer songwriter ROB.GREEN has drawn upon the varied genres of music he grew up with – including soul, RnB, indie and rock, to inform his own distinctive sound and style. With performances at the BBC Proms and a support tour with Earth Wind and Fire and his debut album out later this year, Rob is definitely one to watch.
---
Town Hall Gospel Choir
7.45pm – 8.30pm
Town Hall Gospel Choir is an award-winning outfit from Birmingham frequently appearing on national TV and UK's main stages as well as at international choir festivals. For over ten years this choir has effervesced with excitement and passion bringing a true breadth of the Gospel Choir sound ranging from traditional sweet harmonies to foot-stomping, hand-clapping power songs of the contemporary genre always with its own inimitable twist.
---
Mama Jerk and the Ladyfingers
8.50pm – 9.45pm
Mama Jerk and The Ladyfingers is a 7 limbed party animal native to Bristol Town. Genre hopping, tall tale weaving stomp mongers of the highest order, they've been wreaking havoc around the festival and party scene for the past five years. Armed with wailing psych rock guitar lines and heavy dub rhythm and horns, they deliver gravelly messages of LOVE, DEATH and FITTED KITCHENS!
---