#cheltlitfest Blog: Lit Crawl in town!
Though not quite as warm and picturesque as the streets of San Francisco, the Lit Crawl certainly livened up the streets of Cheltenham last night. From barbershops to bars to bakeries, many turned out to experience the first ever Cheltenham Festival Crawl, which saw more than a dozen events take place in 5 hours. And I tried to make it to them all.
New poetry that packed a punch
Firstly, I made a swift pitstop at Waterstones, where a small crowd were sprawled between the bookshelves and across the floor in rapture at the young poet on stage (well, staircase). I could only stay for a short while, but when I was there I was treated to poems about motherhood, kisses and happiness. I could tell that the audience was uplifted and so was I, a lovely start to my evening.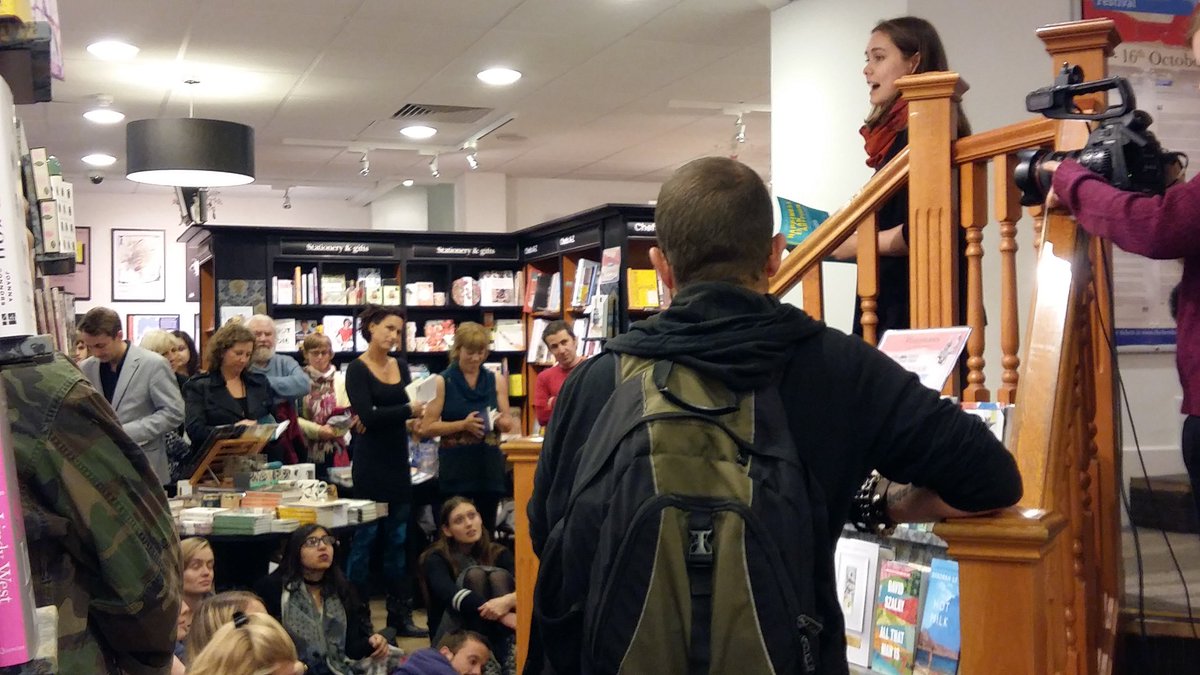 A barbershop quartet of stories
I started off at Kingpins barbershop, where there was already a queue lining up outside of the door. So much so that passersby thought there were free haircuts on offer. Although it felt like I was entering Sweeney Todd's parlour at first, the nerves soon passed as I took a seat in the 'Other Things' chair (right in between 'Love' and 'Death'). The 'barber' was only wielding a paperback and, as I took a seat he introduced himself and treated me to a piece of his own flash fiction.
Whilst some customers sat and listened for a while, even swapping between chairs, I only opted to stay for three. There was something slightly unnerving about a person reading to me at my shoulder (even if I could see them in the mirror). It was an experience and an interesting experiment in storytelling from the Creative Writing students at the University of Gloucester.
An unexpected venue
As the sun set I turned up at the third stop. Well, what I thought was the third stop. I was pretty sure from my map that I was in the right place, but as I walked through a bar of shouting footy fans, I wasn't too sure.
Luckily there was a crowd to follow, up the stairs and to another bar that was already full of crawlers ready to see Ben Wright, BBC political correspondent. Ben was there too, already standing up the bar with a pint, ready to tell his drunken political anecdotes. I was left hanging at the back, but Ben had the audience laughing out loud pretty quickly. Anxious to get my phone charged and not being able to get a seat, I slipped out.
The (In)formal house
I managed to get back to Formal House to catch the end of Penniless Cove's set. In the eerie gloom of the floodlights, her haunting sounds set the mood for the quirky evening ahead. Poets for Hire were also there wrapped up in bobble hats and scalves hitting furiously at their typewriters with liquid inspiration at their side.
Poets for hire #cheltlitcrawl #cheltlitfest pic.twitter.com/PNyZtXsTf3

— Lynette Dakin (@LynetteDakin) October 8, 2016
The Playhouse Actors were there too reciting poems in celebration of Dylan Thomas in between bean bags, indian rugs and fairylights. Two hours later this chilled out atmosphere would be completely transformed by Secret House Shows, their mental saxophone and guitar playing along with some equally crazy spoken lyrics. They promised that the evening would be pure debauchery, mine wasn't far off.
A tea, cake and poetry party
After crawling a little bit too much, I needed sugar. Luckily, the next stop was at Boston Tea Party where I caught a drop of Milk Poetry with my tea and chocolate flapjack. Bad boyfriends, good boyfriends, love affairs and heartbreak were the order of the hour. Even the soundman got involved as people enjoyed snacks, beers and biscuits and settled down to some thought-provoking rhythms and rhymes. Warm and feeling more positive about life (and love) I headed towards the graveyard…
Smashing verses and cake with MilkPoetry</a>, what could be better? <a href="https://twitter.com/hashtag/cheltlitfest?src=hash">#cheltlitfest</a> <a href="https://twitter.com/hashtag/LitCrawl?src=hash">#LitCrawl</a> <a href="https://t.co/wVaACkBLdK">pic.twitter.com/wVaACkBLdK</a></p>&mdash; Cheltenham Festivals (cheltfestivals) October 8, 2016
…Where I met Mr Edgar Poe
Having never previously read Poe, I was intrigued by the churchyard setting. An intrigue which grew as a top hatted man with a lantern approached. Singing to his lover in the night, he lead us through the stones. Passing in between them and the lanterned quotes which were scattered amongst them, I couldn't help wondering what lay ahead.
Gothic shadows at the Minster: super-atmospheric Poe cheltfestivals</a> <a href="https://twitter.com/hashtag/litcrawl?src=hash">#litcrawl</a> from Andrew Bate <a href="https://t.co/66hTvuyoVy">pic.twitter.com/66hTvuyoVy</a></p>&mdash; Meurig Bowen (MeurigB) October 8, 2016
There, under the shadows of the churches floodlights, was one of the highlights of my Cheltenham festival in the form of a dance interpretation of Poe's 'The Raven'. I didn't just come away slightly creeped, but wanting to check out some more Poe poetry.
I needed a beer to shake off the creepy crawling
Time to take on Subtone. Well, there was no way I was going to take on Joelle Taylor and Salena Godden. Attitude personified, Jo treated us to some grimy city treats and Salena to some sex-fuelled girl power. I can't repeat the names of their poems here, but trust me they were epic. They packed a punch that was hard and thought-provoking – the perfect footnote to the first Cheltenham Lit Crawl. The first of hopefully many to come.

Cath Lyon is our #cheltlitfest blogger reporting from events on site and …around town! You will find her on social media and the Cheltenham Festivals blog.