7 Things Not To Miss At #cheltjazzfest
With just 7 to go until Cheltenham Jazz Festival. Head of Programming Emily Jones has picked out 7 things not to be missed.
See an exclusive UK Event at The Henry Westons Big Top
Seeing an event at the iconic Big Top is a must for any Cheltenham Jazz Festival-goer, but this year with its increased capacity never has a statement been more true. By going to the Big Top you're ensured of seeing a great, or future great of the jazz scene and who better than effervescent South African pianist Abdullah Ibrahim. Newly inducted as an NEA Jazz Master, he is certainly a great. Originally under the name Dollar Brand, his music has long tracked the turbulence of his homeland, and now reflects its current optimism through music of great hope and reflective soulfulness. For this UK exclusive marking the release of a new album, he is joined by his long-time band Ekaya. You can pick up tickets for his event by clicking here.
Stay out late and party at the Jazz Festival
The Jazz Festival comes alive at night and those that have the stamina to last late into the night are rewarded with a whole new side to the Festival. Festival-favourites Kansas Smitty's return to the Daffodil serving up sumptuous late-night takeovers. With two critically acclaimed albums and a sold-out headline tour to their name, this group of self-professed 'jazz addicted twenty-somethings' are one of the best live acts around. Moving through swing, blues, R&B, New Orleans jazz and gospel, they have developed a sound of their own, steeped in heritage and crossing generations. Expect the late-night party atmosphere and cocktails that have become synonymous with their shows, as they are joined by very special guests from across the Festival.
Experience spontaneous Jazz …around town
The …around town programme is known for lighting up Cheltenham's streets, restaurants, bars and pubs, bringing a rhythmic beat that resonates around the town centre. But this year, there's something new! Get ready to make the leap into one of our marvellous jazz puddles appearing in the Brewery Quarter, The Prom and the Festival Village. Jump in and get enveloped in jazz music from Festival artists as well as some exclusive improvised treats. This playful installation has been created especially for the Festival by artist Mike Blow. No wellies required! Jazz Puddles is kindly supported by the Charles Irving Charitable Trust.
See something for the first time
Cheltenham Jazz Festival is proud to have so many exclusive performances, so why not go and see something no one else has? This year British-Bahraini trumpeter Yazz Ahmed brings an exclusive preview of Polyhymnia, the forthcoming album from one of jazz's brightest new stars. When Yazz Ahmed is not performing with Radiohead and Lee Scratch Perry, her own music is 'psychedelic Arabic jazz, intoxicating and compelling'. Performed for the first (and possibly only) time with the full 13-piece ensemble from the record, Polyhymnia is a tribute to six inspiring women – including Malala Yousafzai and the ladies of the suffragette movement. Her last album garnered rave reviews and made many 'Best of 2017' lists around the world, so this is one to watch. Buy tickets for her event here.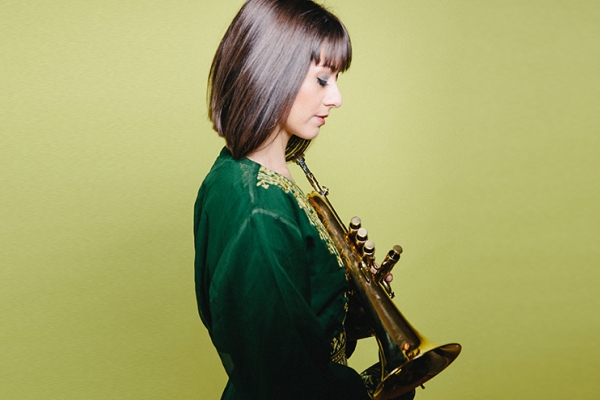 See the UKs hottest jazz talent
Knowing the scene like no other, DJ and broadcaster Gilles Peterson has curated three of the most exciting acts from the new wave of UK jazz who will appear at House of Fraser basement gigs on the Friday and Saturday night of the Festival. I highly recommend Joe Armon-Jones, who is a keys player and co-founder of Ezra Collective. He is currently taking the UK jazz scene by storm with his combination of jazz, hip-hop and dub flows.Tracks from his debut album are consistently featured on the taste-making curated Spotify playlists and have seen praise from Pitchfork, Clash Music, BBC Radio 1xtra and BBC Radio 6 Music. His band effortlessly combines skittering rhythms and soaring melodies into a dazzling sound that's made him one of the most exciting live acts around. Buy tickets for his event here.
Experience something truly unique
Over the years the Parabola Arts Centre has become a hotspot for contemporary jazz at the Festival, seeing an event at PAC you're sure to see something unforgettable. In this unique collaboration created for the Festival, award-winning vocalist Andreas Schaerer reignites an earlier Cheltenham meeting with saxophonist Soweto Kinch. Schaerer's expansive singing style wowed audiences here in 2017, blending beat-boxing, speaking, sound imitation, scatting and even cascades of operatic notes. Meanwhile, MOBO-winning saxophonist Soweto Kinch is known for his sound encompassing both jazz and hip-hop, equally skilled as a horn player and MC. This unusual trio is completed by Finnish guitarist Kalle Kalima. Buy tickets to their event.
Bring the family along
Jazz is for all ages, so we make sure there's plenty for the little-ones to do on site ensuring they have a great time whilst being introduced to a new genre of music! Listen, sing, dance and explore new rhythms with Syrian oud player Rihab Azar – the first female oudist to have performed with the Syrian National Orchestra for Arabic Music. Join her to discover the wonderful music and instruments of the Middle East. Buy tickets to her event.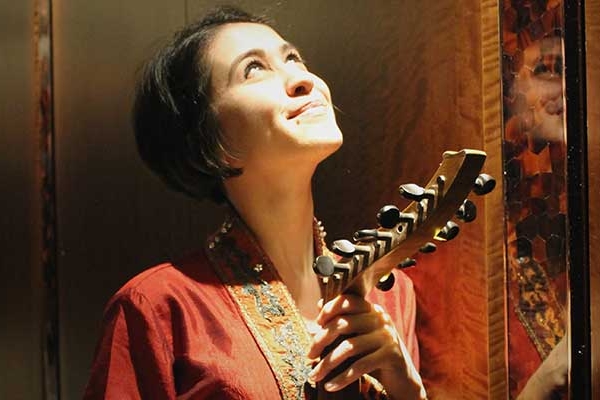 P.S. Our Principal Partner Henry Westons Vintage Cider have launched a brand new cider to their collection which is available at the Festival Bars. Henry Westons Aged Finish is a delicious cider which has been aged for up to 180 days resulting in a deep, rich and long finish for the ultimate refreshing cider to enjoy at the Festival over the Bank Holiday weekend.