Music for Schools 2020
Important update about the Music for Schools programme
1. Workshops in Schools
We are still taking bookings for workshops. Depending on how long social distancing will need to be practised in the UK, we will proceed as follows:
If we can deliver according to the schedule in June, we will.
If we can't, we will organise alternative dates in July or in September.
In the meantime no invoices will be processed, and we will be back in touch with you once we have more information.
2. Concert for Schools
We are still taking bookings for the concert. Depending on how long social distancing will need to be practised in the UK, we will proceed as follows:
If it is not possible to put on the concert as planned, we will explore the potential for holding it on a different date later this year or into 2021.
In the meantime no invoices will be processed, and we will be back in touch with you once we have more information.
Inspirational and interactive opportunities for pupils to make and enjoy music. All elements of this programme are planned and presented by alumni of our Musicate programme.
Booking opens Monday 16 March at 8am
Workshops in Schools in June 2020
One hour, KS2, 30 pupils, £30/workshop
These workshops are most suitable for KS2 pupils. If you are interested in a 15-minute live music experience for younger pupils on the same day, you can indicate this on the booking form.
• Time will Tell
Developing stories through music
Throughout history, traditional stories have been brought to life through songs and music passed down the generations. In this workshop pupils will learn about storytelling through the medium of folk music with guitarist Chris Roberts and double bass player Tommy Fuller. Chris and Tommy will entertain the children with fabulous jigs and reels before exploring harmony, melody, tempo and dynamics and how these building blocks affect the mood and power of a song. Working in groups the pupils will create and perform their own contemporary folk song.
Find out more about Tommy & Chris here.
• What a Wonderful World
Exploring music from different cultures
The world is a very diverse place, yet we all share the language of music. In this workshop your pupils will take a musical journey around the world, exploring and comparing the music of different cultures, demonstrated by saxophonist Nick Brown and tuba player Ben Jones. Your pupils will work to explore the building blocks of music and create melodies and rhythms inspired by the music that they have heard. The workshop will culminate in a group performance combining music from across the globe.
Find out more about Nick & Ben here.
---
Concert for Schools and Music Explorers (KS2)
Bring your pupils to the Festival in July – only £1 per pupil
Schools with high pupil premium can apply for a transport subsidy via the booking form
Friday 10 July, Cheltenham Town Hall
Concert: 10.30 – 11.30am; Music Explorers 11.50am and 12.50pm
For a dynamic and interactive introduction to live music, followed by hands-on access to orchestral instruments, this is your one-stop shop.
This lively and interactive concert will be planned and presented by music students from our Musicate programme; their mission is to inspire, thrill and amaze you and your pupils. The stage will be full of dynamic young musicians, featuring the Gloucestershire Youth Chamber Orchestra, Festival artists harpist Richard Allen and percussionist Alex Pullen, alongside other guest musicians. Look out for instruments in unexpected places, listen out for key musical elements, and enjoy some great classical music.
After the Concert pupils can get their hands on a variety of musical instruments in the Music Explorer sessions, led by some of the musicians from the concert.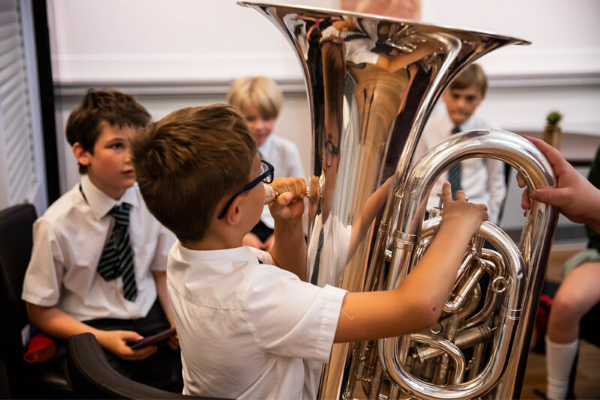 ---
Musicate 2020-21
Year-round outreach for primary schools
Would you like to increase the profile and enjoyment of music in your school? Do you wish you had more time for music in class? Why not sign up for Musicate?
Musicate supports two teachers in each school, including the music subject lead over an academic year. Bespoke CPD sessions together with the support and input of a musician from The Royal Birmingham Conservatoire will increase teachers' confidence and give them new strategies to deliver an engaging music curriculum; pupils will learn to appreciate and enjoy a broad range of music through creative music-making. Musicate is a funded programme, so the costs to schools are minimal.
'As a new music leader, without any musical past except hairbrush singing and air guitar, I needed support to become knowledgeable and effective within a relatively short time. The Musicate CPD has taken me out of my comfort zone and given me the tools to develop my musical knowledge and confidence. It is up-skilling everyone at our school, and the momentum of the project is shining brightly like a beacon of inspiration to our children. All the impacts of my music leadership this year have rippled out from Musicate roots, and participating in the programme has changed my career in ways I never dreamt it would. All music leaders, new or experienced – you MUST apply.'
Holly Jones, Fairford Primary School
---
For a different hands-on experience, why not try a Gamelan workshop at Gloucestershire Academy of Music (
GAM

)?

A Gamelan is collection of tuned percussion instruments from Java in Indonesia. In a Gamelan workshop your pupils will learn how to play a traditional piece of Javanese music whilst also developing their understanding and awareness of pitch, tempo and rhythm; improving their listening skills; and exploring a different culture.

Thanks to funding from Make Music Gloucestershire, workshops cost only £30 for schools with high levels of pupil premium. Travel subsidies are also available. A workshop for a group of 30 will last for 90 minutes. All workshops are fully accessible and suitable for pupils in KS2 and above, including SEND.

'The children who find concentrating difficult remained focused and on task all session. Those who have had some musical experience were all stretched and were engrossed in the music.'
Teacher, Greatfield Park Primary

GAM can also offer 10-week gamelan-inspired whole-class percussion workshops. The first and last weeks are delivered in central Gloucester and the remaining 8 weeks take place in your own school. Each 10-week course, led by a gamelan specialist tutor, costs £399 for each class and is subsidised by Make Music Gloucestershire.

To find out more and make a booking, contact jane@glosacadmusic.org or ring 01452 668592
---
We would also like to thank all of our generous individual supporters, including the 70th Festival Appeal Donors.