Music for Schools 2019
Inspirational and interactive opportunities for your pupils to make and enjoy music, planned and presented by alumni of our Musicate programme..
Booking opens on Wednesday 13 March at 8am

Workshops In Schools June 2019
One hour, KS2, 30 pupils, £30/workshop
These workshops are most suitable for KS2 pupils. If you are interested in a 15-minute live music experience for younger pupils on the same day, you can indicate this on the booking form
.
Music For Every Body
In this workshop pupils will explore different ways of using their body and voice to compose music with vocalist and community musician
Gina Baker
. Under her expert guidance your pupils will create and perform their own music without needing either instruments or technology. They will learn how flexible the voice can be, explore body percussion, and understand more about dynamics, pulse and following a conductor.
---
Battle Of The BeatsAlthough jazz and classical music are distinct genres, they also share many features. This workshop will look at some of the similarities and differences between the two genres, demonstrated by saxophonist Nick Brown and tuba player Ben Jones. Your pupils will work in teams to explore the building blocks of music and create melodies and rhythms inspired by the music that they have heard. The workshop will culminate in a group performance combining all their best ideas.
---
Bring your pupils to the Festival in July
Concert for Schools and Music Explorers (KS2)
Friday 12 July
Concert: 10.30 – 11.30am
Music Explorers: 11.50am and 12.50pm
Only £1 per pupil!
For a dynamic and interactive introduction to live music, followed by hands-on access to orchestral instruments, this is your one-stop shop.
This lively and interactive concert will be planned and presented by music students from our Musicate programme; their mission is to inspire, thrill and amaze you and your pupils. The stage will be full of dynamic young musicians performing fabulous music, including Festival artists award-winning young saxophonist Jess Gillam and the amazing Brass for Africa. Look out for instruments in unexpected places, listen out for key musical elements, and get stuck into some audience participation!
After the Concert pupils can get their hands on a variety of musical instruments in the Music Explorer sessions, led by some of the musicians you saw in the concert.
---
Musicate 2019-20
Year-round outreach programme for primary schools
If you are anxious about planning and teaching music; if you wish you had more time for music in class; if you would like to increase the profile and enjoyment of music in your school – you should sign up for
Musicate
.
Musicate supports two teachers in each school, including the music subject lead over an academic year. Bespoke CPD sessions together with the support and input of a musician from The Royal Birmingham Conservatoire will increase teachers' confidence and give them new strategies to deliver an engaging music curriculum; pupils will learn to appreciate and enjoy a broad range of music through creative music-making.
Musicate is a funded programme, so the costs to schools are minimal.
Applications open 13 March 2019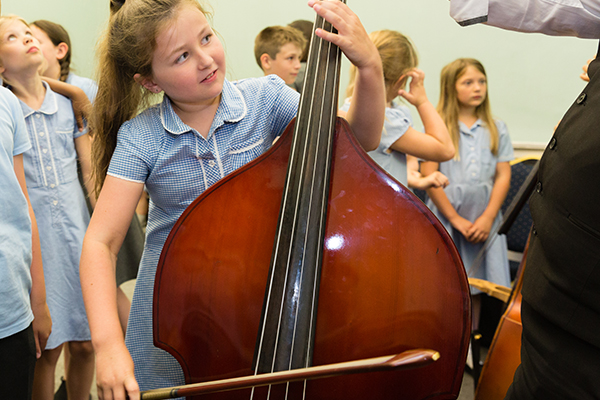 I feel so much more confident and actually want to teach music. The children have improved massively since the start of Musicate and can now comment on what they are listening to.
---
---
Why not take a trip out of school?Gamelan workshops at Gloucestershire Academy of Music, summer term, from £30/workshop
We now have four fully-trained gamelan tutors ready to teach your pupils how to play these fantastic tuned percussion instruments from Indonesia. Whilst learning to play a traditional piece of Javanese music, your pupils will also develop their understanding and awareness of pitch, tempo and rhythm; improve their listening skills; and learn about a different culture.
Thanks to funding from Make Music Gloucestershire, workshops cost only £30 for schools with high levels of pupil premium. Travel subsidies are also available. A workshop for a group of 30 will last for 90 minutes. All workshops are fully accessible and suitable for pupils in KS2 and above, including SEND.
To find out more and make a booking, contact jane@glosacadmusic.org or ring 01452 668592
The children who find concentrating difficult remained focused and on task all session. Those who have had some musical experience were all stretched and were engrossed in the music.
---
With thanks to all the supporters of Music for Schools 2019
Supported by funding from Make Music Gloucestershire, the county's music education hub
We would also like to thank all of our generous individual supporters, including the 70th Festival Appeal Donors.