Details
Cavaleri Quartet with
Celan Quartet*
Gildas Quartet*
Quatuor Hermes*

Harvey Mortuos Plango, Vivos Voco 10'
Tavener Scatter Roses Over My Tears (UK premiere) 15'
Tavener Towards Silence* 35'
In the immensity of Gloucester Cathedral's darkening, candlelit nave, be transported by this sonically spatial, mystical sequence reflecting on life and death.
'I feel very close to this music,' wrote John Tavener of Towards Silence, a poignant meditation on the Four States of Being for four surround-sound string quartets and Tibetan Bowl.
Scatter Roses Over My Tears is one of Tavener's last completed works, and the 12th Cheltenham premiere of his music since the first in 1970.
Tavener's music is complemented here by the extraordinary creation for multi-track tape by his near contemporary Jonathan Harvey. Computer- processed music has never been more human and transcendent than this audience-enveloping mosaic from 1980, featuring Harvey's chorister son and Winchester Cathedral's awesome tenor bell.

Scatter Roses Over My Tears supported by The Garrick Charitable Trust
Quatuor Hermes supported by


Since 1993, bureauexport is actively following the international development of the French music industry, in all styles of music (electronic, jazz, pop, rock, world, urban, classical). Bureauexport puts in touch French and foreign professionals (labels, publishers, artistic agents, ensembles), helps them setting up and carrying out projects, conducts a permanent market watch, etc.
More information or professional contacts: www.french-music.org
Venue
A warm welcome awaits you at Gloucester Cathedral – one of the finest medieval buildings in the country and steeped in history, from royal coronations and burials to Harry Potter film sets. Begun in 1089 and remodelled over four centuries, its architectural magnificence encompasses Norman and English Gothic styles. The extraordinary fan-faulted medieval cloisters and Great East Window are national treasures and the Lady Chapel houses some of the finest Arts & Crafts glass in the country.
With a seating capacity of 900, Gloucester Cathedral is a perfect venue to watch grand Music Festival events and see world-class choirs and orchestras perform.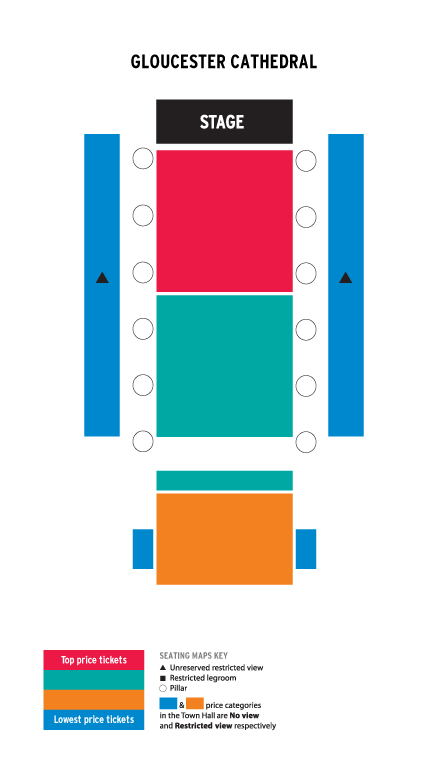 Experience the beautiful Cathedral up close. Take a 360° virtual tour, customised by kind permission of Tetbury-based artist and photographer Maria Stengard-Green for this year's Cheltenham Music Festival.
Extracts of Fauré's Requiem courtesy of Hyperion Records.
*Fees & Booking Info
Our booking fee
CF Ticketing charges a fee per booking to reflect the costs of providing the service which include card processing costs (for both credit and debit cards) as well as staffing, developing and maintaining the booking software and postage
Our booking fees are as follows:
Online sales £2.50
Telephone sales £2.50
In person card sales £1.50
There is no fee for in person sales by cash
We endeavour to keep our booking fees as low as possible and charge on a per booking basis rather than a per ticket basis to ensure this. We also endeavour to ensure that our booking fees are clear before any transaction is completed.
For more information about your booking click here
blog comments powered by

Disqus